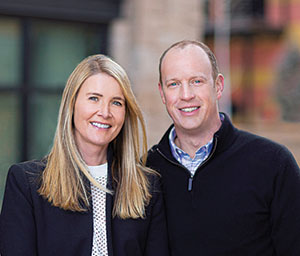 Sarah: 970-445-7185 | Will: 970-379-5918

Sarah: 970-445-7185 | Will: 970-379-5918 cell phone

burggrafgroup@aspensnowmasssir.com
415 E. Hyman Avenue
Aspen CO, 81611
Receive Email Alerts from Me
LOCAL EXPERTISE. GLOBAL CONNECTIONS.
Whether buying or selling, working with long-time locals and dedicated real estate professionals Will and Sarah Burggraf, has its benefits. The Burggraf Group will accompany you every step of the way by providing sound advice and guidance through all aspects of the challenging Aspen/Snowmass real estate transactional market. With over thirty years of combined experience and intimate knowledge of the community, The Burggraf Group will provide its clients with up-to-the-moment intelligence on the current market trends and leverage its vast network to ensure every aspect of the process is exceedingly well informed so that the best possible decisions are always made.
The Burggraf Group believes that above all else, real estate professionals should provide an invaluable service working on behalf of their clients with a friendly, down-to-earth approach along with a no-nonsense sensibility and dedication to their craft. We look forward to learning more about your goals for your next real estate purchase in the Roaring Fork Valley.
Sarah & Will Burggraf 's Listings